Your credit reports contain information about where you live, how you pay your bills, and any public records that you may have.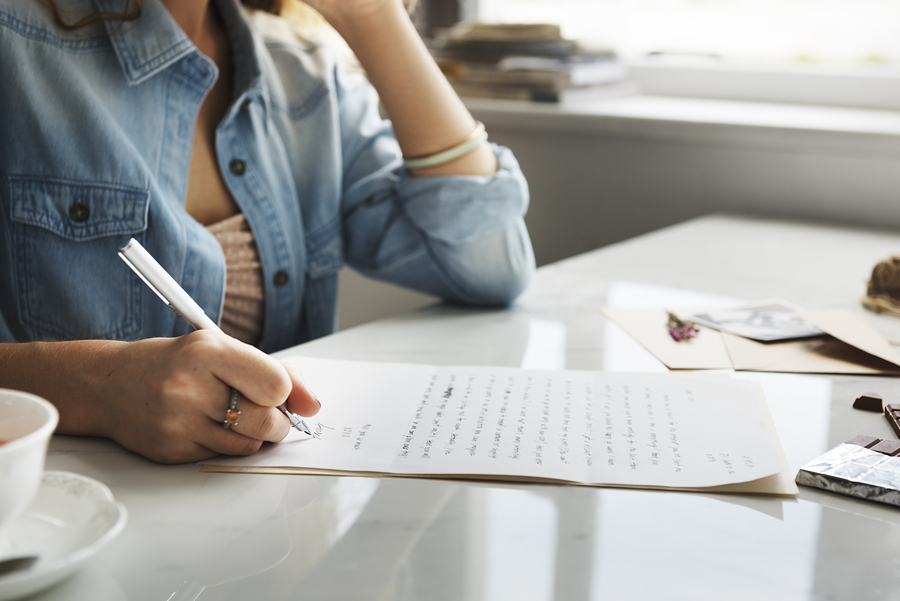 Credit bureaus sell your report to creditors, insurers, employers, landlords and anyone else who will pay for it. They use this information to evaluate what kind of risk you will be for credit, insurance, employment, renting and sometimes utilities.
You probably already knew that. But, did you know a study released by the U.S. Public Interest Research Group in June 2004 found that 79% of the consumer credit reports surveyed contained some an error or mistake?
That's right. That means about 4 out of 5 people have information on their reports that is erroneous! Astonishing isn't it?
Ready to Get Negative Items Removed from Your Credit Report?

Call for a Free Consultation:
(800) 220-0084
Even worse, more than 25% of credit report errors have are severe enough to result in the denial of credit or increase rates. A good score can save you $100,000 over the life of a $250,000 mortgage.
So, technically, you could be paying $100,000 more on a 30-year mortgage because of MISTAKES THE CREDIT BUREAUS MADE in reporting your information!
Credit Reporting Laws – Your Rights Under the FCRA
That's just the beginning of the awful things that could happen to a consumer because of the credit bureau's erroneous reporting. For this reason and many others, it's crucial that you review your credit history periodically.
However, the law is on your side. By law, credit bureaus have a responsibility to provide accurate information about you. The Fair Credit Reporting Act requires them to have a dispute process so that you can get the errors fixed.
Under the FCRA, if you dispute an item on your credit report with the creditors, they notify your creditor who must verify the item's accuracy.
If the item is proven to be inaccurate or unverifiable, the item must be removed from your credit report within 30 days after the credit bureau has received the dispute.
How do errors appear on your credit report?
There are numerous reasons for errors. Lenders, banks, and collection agencies sometimes report things inaccurately. They are only human. They make mistakes
Sometimes people have similar names or similar social security numbers get mixed up. Many times items of a family member's account will appear on a credit report because of similarity in name.
Identity theft errors is another possibility. If someone stole your social security number and opened an account in your name, even if you reported it, that account could still show up on your report as a mistake.
Re-aging of accounts can also occur when debt collectors pass your accounts around. These are also credit reporting errors and you should dispute them.
How to Dispute Credit Report and Win
The dispute process can be done via mail, phone or online. We highly recommend that you do it through the certified mail. This allows you to keep records of all correspondence with the credit bureaus. It's also much more effective doing it through the mail. You give up some of your rights when you dispute online at the credit bureau's website.
Analyze Your Credit Reports
To dispute these errors, you must first obtain copies of your credit reports. You will then want to spend some time analyzing them. Make sure that everything being reported is accurate including your personal information.
Look for any negative accounts on your report. Do you notice anything about them that could be questionable? If so, you have the right to dispute that account.
Send a Credit Dispute Letter
The Consumer Financial Protection Bureau recommends that you contact the credit bureaus that are reporting the errors. The best way to do that is in writing.
Check out our sample dispute letters and follow the instructions. After the creditor receives notice of a dispute from the credit bureau, it must investigate, review the relevant information, and report the results back to the credit reporting agency.
If the creditor finds inaccurate information within the disputed account, it must notify all three credit reporting agencies so they can correct the information in your file. Sometimes the creditor simply fails to respond to the credit bureau. In that case, the credit bureau must remove it from your report.
You will hear back from the credit bureau about 30 days after they receive the letter. Often you will receive the results of your dispute sooner than that.
Following Up
You will need to follow up with your credit report dispute if you don't receive the desired results. It's also possible that your letter gets ignored. If you have not received a response within 30-40 days, you will need to send a follow-up letter. You can also file a formal complaint with the Federal Trade Commission (FTC).
The FTC does not resolve individual consumer disputes, but it's essential that you have the complaint filed for your records in case you decide to hire an attorney as willful failure to comply with the law may subject the credit bureau to civil liability.
Getting Professional Help
If you find that you don't have time or would rather just have it done for you, check out one of the top credit repair services. It will also ensure that it gets done correctly. One particular company has been helping people with their credit for over 28 years. Read our review on Lexington Law Firm to learn more about them.
They have removed millions of negative items from their clients' credit reports and know how to follow up with creditors and credit bureaus when they are not cooperating. For the best possible results, you may want to give them a try.
How I Got Help
After I graduated from college, I got a pretty good job at a mid-sized company that was doing well at the time. I moved my way up the ranks and was living the dream … before the recession finally hit my industry.
All of a sudden, my company wasn't getting paid by our clients. As a result, we couldn't pay our bills anymore. The owners decided to shut everything down and I lost my job along with about 30 other people.
I got unemployment, but that was barely enough money to buy food for my family. I started going deeper and deeper into my credit cards until I had maxed them out. I also got behind on a lot of other payments.
I finally declared bankruptcy, but by that time my credit was severely damaged. I tried to buy a house but didn't qualify because of my credit. Not knowing what to do, I listened to the advice of a buddy of mine who told me how to repair my credit.
I told him I had no idea how to do it and he told me there was a company that could do it for me – all I had to do was pay a small fee and they would take care of everything else. Since I knew how important it is to have a high credit score, I decided to give Lexington Law a try.
I called Lexington Law and they helped me out. They got a couple of the items from my past credit card debt removed and my credit was on the road to recovery.
It took several months to get my credit where it needed to be, but I was finally able to qualify for a home loan. I moved into my new place a couple of years ago and have loved it ever since! I'm so grateful that I was able to improve my credit with the help of Lexington Law.
I Raised My Credit Score
Over 200 Points!
Did you know that you have the right to dispute information contained on your credit file? When you dispute negative accounts with the credit reporting agencies, they have 30 days (by law) to verify the information. If the information cannot be verified, it must be deleted.
Note that whether the account is "really" yours or not has no bearing on their responsibility to verify it. If they can not verify it, they must delete it, period.
Collections Removed: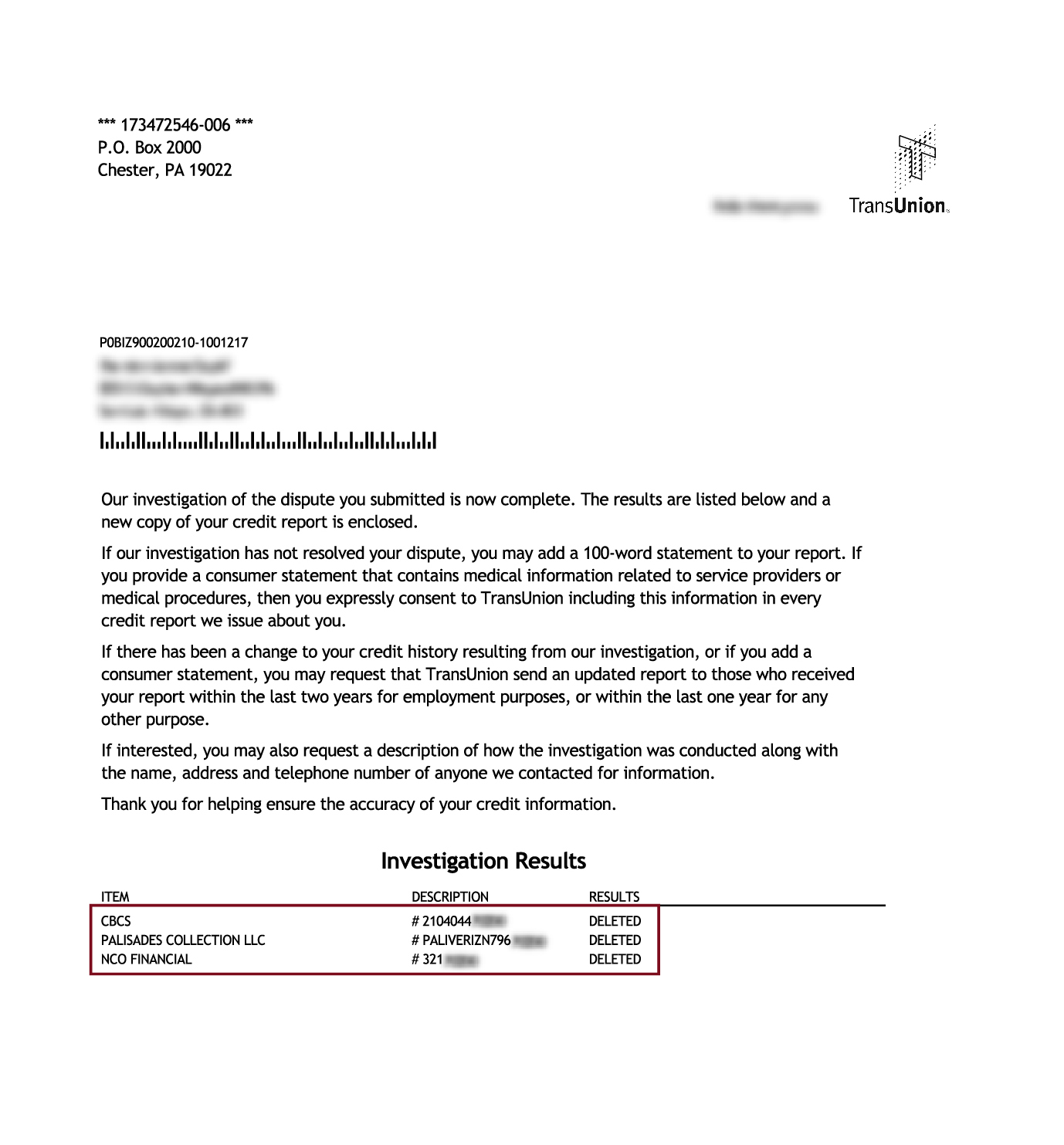 Bankruptcy Removed from Equifax: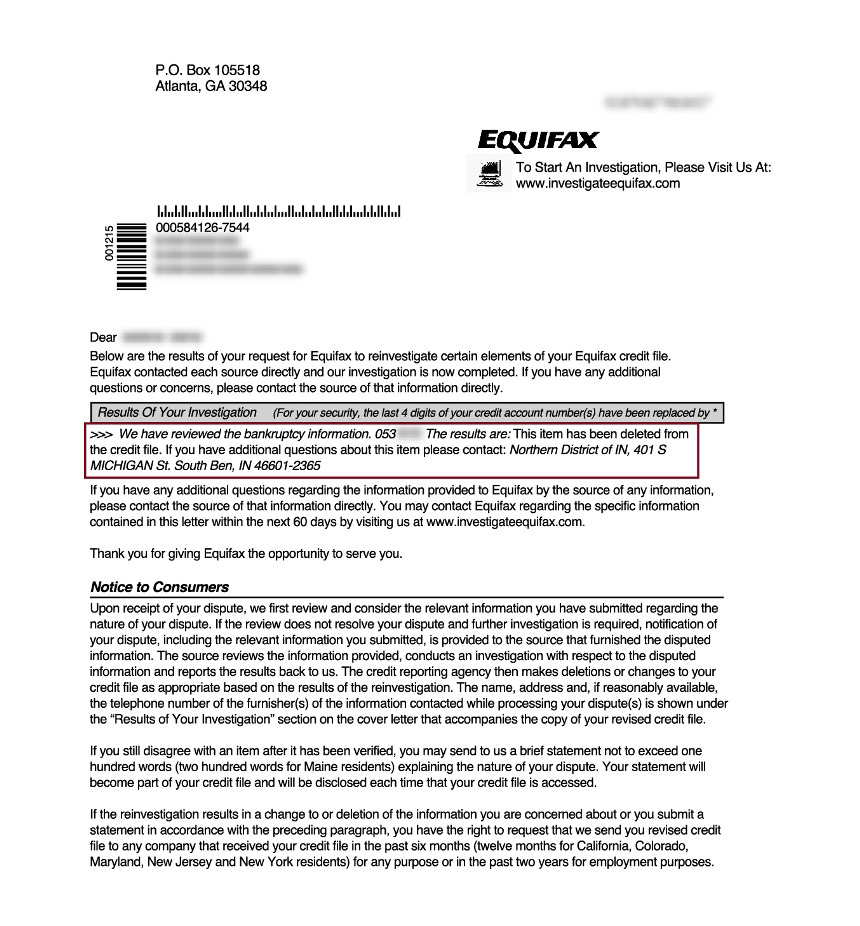 Bankruptcy Removed from TransUnion: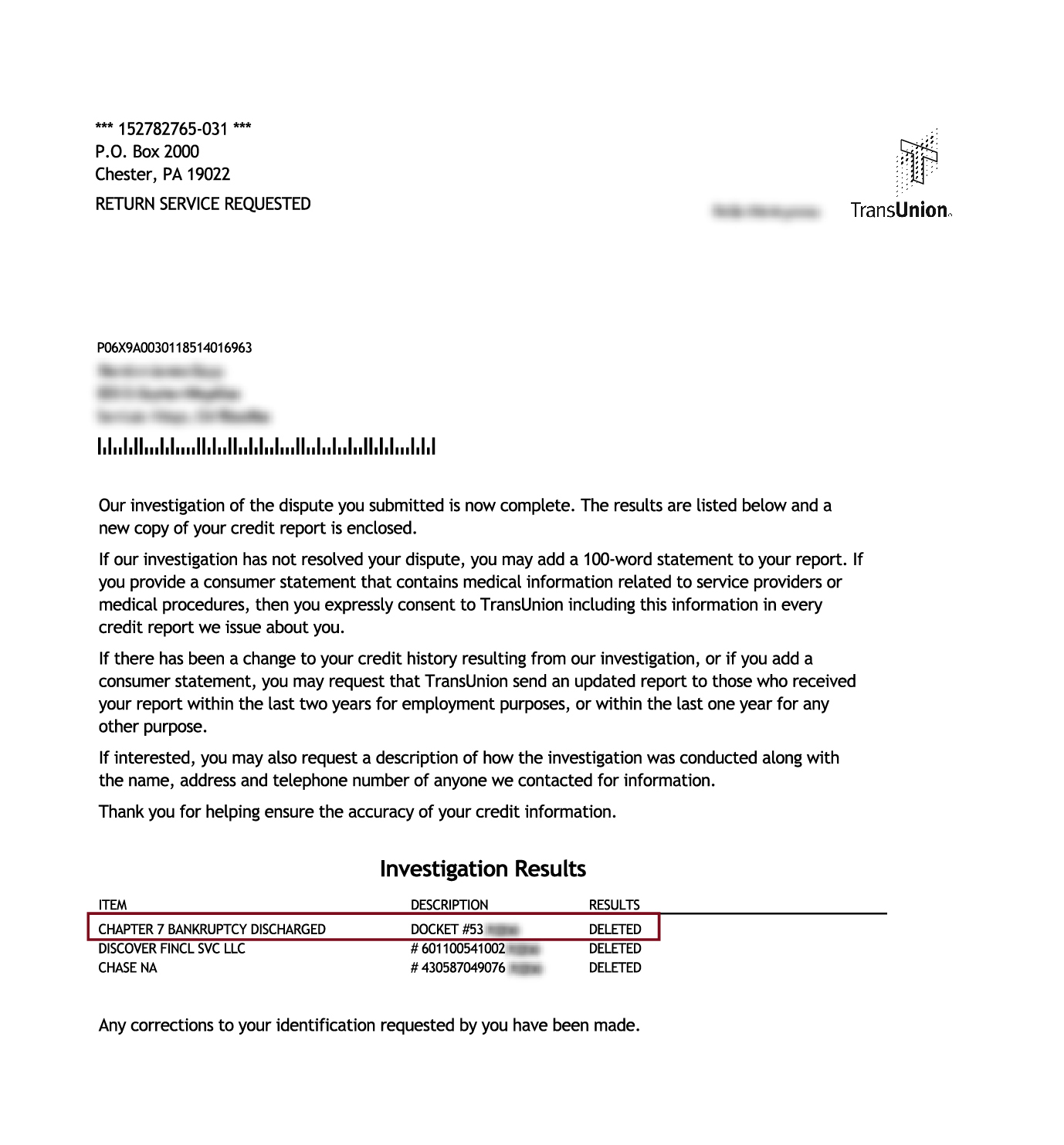 Charge-Offs Removed:
My credit scores have dramatically improved since there are no longer any negative accounts on my credit report. Here's a snapshot of my progress since I signed up with Lexington Law:
Client Testimonials:
"Thanks, Lexington Law Firm for all your help. I appreciate all you've done to clear my credit. They made so much progress in such a short time!
You were very professional and very helpful at all times. And it was so nice to get a real human being on the phone whenever I needed assistance. I'll keep you in mind if I ever need anything else."
— D.S., Lexington client
"I've been a customer with Lexington Law for some time getting my credit fixed. You've helped me clean up the snags in my credit history. It used to be, when I went to get a loan, they'd charge me between 16 to 20% interest!
A few months back, due to my credit being clean, I was able to get a used car loan for under 8%. That amounted to over $100 a month in interest savings. I was also able to purchase 5 acres of land and have been approved for a construction loan to start building a house.! Thank you all!"
— C.R., Lexington client
Lexington Law has helped thousands of clients by eliminating all kinds of negative marks, including bankruptcy, judgments, liens, collections, charge offs, foreclosure, and more!
Discount for Family Members, Couples, and Active Military!
Lexington Law is now offering $50 off the initial set-up fee when you and your spouse or family members sign up together. The one-time $50.00 discount will be automatically applied to both you and your spouse's first payment.
Active military members also qualify for a one-time $50 discount off the initial fee.
Get Started Now!
If you're sick of having bad credit and ready to get the negative accounts wiped off your credit report, let the professionals at Lexington Law Firm take care of it for you.
Ready to Remove Negative Items from Your Credit Report?

Call for a Free Consultation:
(800) 220-0084