Acorns offers consumers who are interested in investing the best of both worlds. With their services, you can start investing with your spare change, open an IRA to start building for your future, or receive cash back on your purchases from select retailers to help beef up your savings. They also offer a checking account with a host of benefits and minimal fees.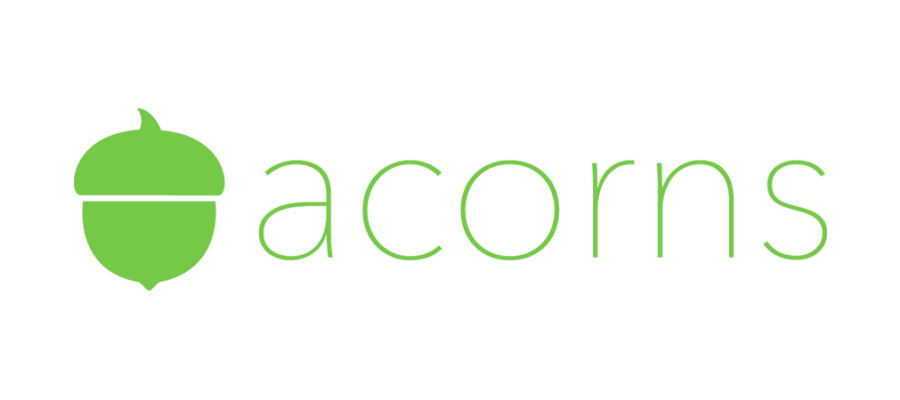 To date, they are one of the more reputable robo-advisors around. In fact, over 4,000,000 people around the globe are investing through the Acorn platform.
Read on to learn more about their offerings, benefits and drawbacks, and how to get started.
Summary of Offerings
Acorns Core: micro savings app that allows you to invest using minimal amounts of cash. There are also other features available through Acorns to grow this account even faster.
Acorns Found Money: a feature that allows you to earn cash back that can be invested into your Acorns Core account.
Acorns Later: an IRA offered that allows you to build your nest egg.
Acorns Spend: a checking account and debit card that helps you grow your Acorns Core and Acorns Later accounts.
Acorns Gift Cards: allows you to give the gift of investing with Acorns to a friend or relative.
Acorns Core
Acorns Core is a micro-investing account that enables you to grow your portfolio with small scheduled deposits or by rounding-up purchases from your bank account and transferring them. You can also grow your dough through the Found Money features. More on that shortly.
This service is available for only $1 per month (or free of charge for college students). And as a member, you'll also receive Grow Magazine that's full of practical money tips free of charge.
Acorns Found Money
Through Acorns Found Money, you can make your cash back work for you. All you have to do is link your debit or credit card to your Acorns Core account to start earning. The cash back earned from purchases will appear in your Acorns Core account within 60 to 120 days.
Participating partners include:
Airbnb: 1.8 percent cash back from your service fee
Apple: 1.2 percent cash back on purchases
Barnes & Noble: 2 percent cash back on purchases
Billshark: $10 cash back when you sign up for their service
Birchbox: $10 cash back when you register for a 6 month or 1-year subscription
Blue Apron: $30 cash back when you sign up for their service
Boxed: 4 percent cash back on purchases
Casper: $75 percent cash back on purchases exceeding $500
DirecTV: $25 cash back when you sign up for their service
Dollar Shave Club: 5 percent cash back on purchases exceeding $10
earnest: $100 cash back when you refinance your student loan
Expedia: 4 percent cash back on purchases
Groupon: 5 percent cash back on purchases
Hilton: 6 percent cash back on purchases
Jet: 2 percent cash back on purchases
John Hancock Vitality: $5 cash back when you purchase a life insurance product
LifeLock: $25 cash back when you sign up for their service
Lyft: $15 cash back when you register to drive
Macy's: 5 percent cash back on purchases
Me Undies: 20 percent cash back on your first purchase
MVMT: 10 percent cash back on purchases
New Balance: 5 percent cash back on purchases
Nike: 5 percent cash back on purchases
Saks Fifth Avenue: 1.5 percent cash back on purchases
Sam's Club: $1 cash back on purchases
Samsung: 3 percent cash back on purchases
Seat Geek: 3 percent cash back on purchases
Sephora: 3 percent cash back on purchases
shopDisney: 1 percent cash back on purchases
SoFi: $100 when you use their service
Sonos: 5 percent cash back on purchases
Stance: 10 percent cash back on purchases
Stitch Fix: $10 cash back on purchases
The Wall Street Journal: $5 cash back when you subscribe
Walmart: 1 percent cash back on purchases
Warby Parker: 10 percent cash back on purchases
You can download Acorns Found Money for free, but you must have an Acorns Core membership to get started.
Acorns Later
Acorns Later is an Individual Retirement Account designed to help you save for your nest egg with contributions as little as $5. Furthermore, you'll only pay $2 per month in administrative fees until your investment portfolio reaches $1 million. (This fee includes Acorns Core)
Once you sign up for Acorns Later, you'll be prompted to answer a few questions to help determine which IRA and portfolio best suit your needs. If you agree to the recommendation, the next step is to schedule automatic Recurring Contributions, and Acorn will take it from there. And should you decide to roll over your existing IRA to an Acorns Later account, a member of the customer support team will be happy to assist.
You should also know that you must sign up for an Acorns Core account before you can take advantage of Acorns Later. These accounts also subject to early withdrawal fees and penalties, per IRS guidelines.
Types of investments
Exchange Traded Funds (ETFs): including the Dow Jones Industrial Average and S&P 500 Asset Classes: stocks corporate bonds, government bonds, emerging markets, real estate, small companies, large companies.
Portfolios
Investors can choose from five portfolios:
| | Large Co. Stocks | Small Co. Stocks | Emerging Market Stocks | Real Estate Stocks | Gov't. Bonds | Corporate Bonds | Int'l. Large Co. Stocks |
| --- | --- | --- | --- | --- | --- | --- | --- |
| Conservative | 12% | 2% | ---------- | 2% | 40% | 40% | 4% |
| Moderately Conservative | 24% | 4% | ---------- | 4% | 30% | 30% | 8% |
| Moderate | 29% | 10% | 3% | 6% | 20% | 20% | 12% |
| Moderately Aggressive | 38% | 14% | 4% | 8% | 10% | 10% | 16% |
| Aggressive | 40% | 20% | 10% | 10% | ---------- | ---------- | 20% |
Acorns Spend
Acorns Spend is a checking account that is used in conjunction with Acorns Core and Acorns Later. It comes with a debit card and account holders enjoy a variety of benefits, including:
Direct payroll and mobile check deposit
Fee-free ATM withdrawals (or reimbursement)
No minimum balance required
No overdraft fees
Free cross-account transfers
Spending strategies tailored to fit your needs
All accounts are backed by the Federal Deposit Insurance Corporation (FDIC) for up to $250,000.
For a monthly fee of $3, you'll have access to all these benefits, plus Acorns Core and Acorns Later.
Acorns Gift Cards
Customizable gift cards are available in quantities of 10 or less for $25 each. You'll never pay to ship as the only delivery options are email or text. And if you prefer to hand deliver the gift card to the recipient, Acorns will email you a printable copy of the gift certificate.
What are the key benefits of Acorns?
Diversification
Investing grants you Share Ownership in Acorns portfolio of ETFs, which are comprised of over 7,000 stocks and bonds.
Industry experience
Portfolios are created by an extremely knowledgeable and experienced player in the game, Dr. Harry Markowitz, who also happens to be an economist who won the Nobel Prize. You should also know that ETFs are derived from Vanguard and BlackRock, which are two of the most reputable investment advisor groups in the industry.
Educational resources
Acorns' website is loaded with financial advice on their blog, Grow from Acorns, that will help just about anyone understand the basics of investing. The blog offers other advice in other areas related to personal finance to help you better manage and maximize your dollars.
No up-front investment required
Another major benefit of Acorns is that you don't need thousands or even hundreds to open an account. In fact, you can set up an account with no minimum investment. But you'll need at least $5 to start making your money work for you through one of their investment vehicles. And if you're a college student, you can start using Acorn Core for free.
Minimal management fees
Unless you have a million invested in the platform, you'll only pay up to $3 per month, depending on the service you choose. Plus, you won't ever have to worry about transfer, trading or closing fees.
Earn with spare change
No more scraping up and withdrawing your spare change in an attempt to save it in a jar or invest it. Acorns Core will do the work for you when you set your desired preferences. There's even an option to round-up purchases, too.
Cash back from your favorite retailers
As mentioned earlier, the Found Money feature enables you to earn cash back that is deposited directly into your Acorns Core Account. This beats blowing the cash back on another useless purchase and not having anything to show for it.
Automation
You steer the ship with regards to how often contributions to your account are made. They can be done each time you make a purchase via round-ups on a daily, weekly, or monthly basis. Best of all, contributions can be set from your dashboard and are automated.
Market fluctuations are also accounted for around the clock and your portfolios are adjusted accordingly through automation.
What are some drawbacks of Acorns?
Risk of loss
Like most other investment products, Acorns IRAs put your principal at risk, especially if you decide to go with their Aggressive portfolio. Unfortunately, it may take some time to recoup your losses if the amount you've invested is on the lower end.
And you must also consider the low rates of return, compared to other products on the market. This is especially true if you're using Acorns Later to boost your nest egg.
The possibility of minimal returns
If your account balances with Acorns Core or Acorns Later are low, you run the risk of obliterating any returns. You can also lose your principal if the balance is minimal due to management fees, which increase once your balance exceeds $5,000.
Should you use Acorns?
If you are a college student looking for a free way to invest, Acorns may be worth your while. Not only is Acorn Core available to you free of charge, but you will also have access to a plethora of educational resources to help you get acclimated to the investing world. Furthermore, you can sign-up for Acorns Later or Acorns Spend and take advantage of Acorns Found Money for only $1 or $2 more per month.
Acorns may also be a good fit if you use cash frequently and tend to have a lot of change lying around. It's another great way to make that change from purchases made from your debit or credit card grow at a much faster rate. And it definitely helps to have the automatic roundup feature at your disposal to make the process of transferring funds from your bank account to your Acorns Core or Acorns Later account seamless.
How to sign up for Acorns
Are you ready to get the ball rolling? If so, all you have to do is download the app on your mobile device or desktop to start investing. The process will entail the following:
Step 1: Download the mobile app.
You can also access the platform from your desktop.
Step 2: Create an Acorns Investment Account.
To do so, all you'll need to do is provide an email address and create a unique password.
Step 3: Connect your bank.
Doing so allows you to take advantage of the Found Money feature. The platform has a built-in feature to help you verify your identity so Acorns can access your spending data. If you have more than one account at the financial institution you select, you will be prompted to choose which account you wish to use.
Step 4: Enter your personal information.
In this section, you will need to provide your legal name, address, phone number, date of birth, Social Security number, and citizenship status. You will also need to answer a few questions regarding your employment, net worth, income and reasons for investing. A few other questions you should be prepared to answer:
Are you or have you been affiliated with a broker-dealer?
Has the IRS notified you of being subject to backup withholding?
Are you a 10% shareholder of a publicly traded company?

Lastly, you'll be prompted to choose a security question to secure your account.
Step 5: Review your recommended portfolio.
The platform will share a recommended portfolio, along with a breakdown of how each dollar will be invested.
Step 6: Start investing.
Next, you'll be prompted to make a one-time or recurring contribution from your bank account. If you're not quite ready to move forward, you have the option to start investing at a later date.
Bottom line
Ready to get started with investing? Acorns may be the perfect opportunity to get your feet wet without spending a fortune. And if it doesn't quite work out for you, you can always take your contributions elsewhere.