Many people want to buy a home but think it isn't possible because they don't have money to put toward a down payment. Traditionally, lenders require a 20% down payment toward your mortgage.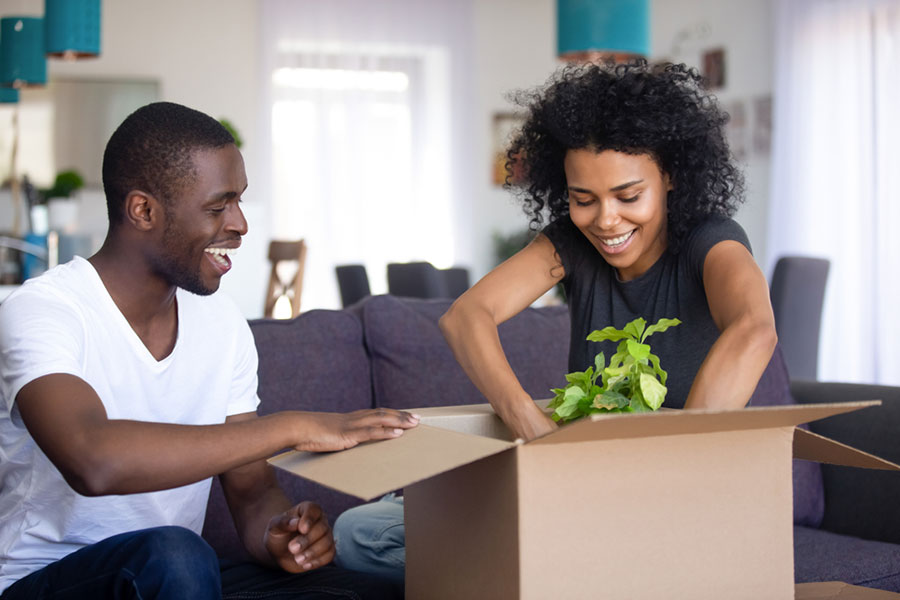 But a 20% down payment adds up to a lot of money. This means that if you're planning to purchase a $150,000 home, you'd need to come up with a $30,000 down payment. This is out of reach for many people but fortunately, the 20% rule is a lot less common than you might think.
Can I get a 100% mortgage?
According to the National Association of Realtors (NAR), 39% of non-owners believe they need a down payment of at least 20% or more. 22% believe they need a down payment of 10% to 14%.
But neither of these are true. Many lenders will let you buy a home by putting down as little as 3%. And some lenders will let you skip the down payment altogether.
NAR also found that 61% of first-time homebuyers made a down payment between zero and 6%. So it's safe to say that a 20% down payment isn't the standard anymore. But unfortunately, many consumers choose not to pursue homeownership because they believe this down payment myth.
Are 100% mortgages a good idea?
Since most home buyers purchase a house with a down payment that's lower than 20%, is there any reason to aim for a 20% down payment? If you can afford it, yes, the 20% rule is still a good idea.
Obviously, the more money you put toward your mortgage, the less debt you'll have to repay. Plus, there are several drawbacks to putting down less than 20%:
Less favorable rates: If you pay less than 20%, lenders will probably see you as a risky investment. And they will take this into consideration when calculating your loan rates. In general, you can expect to pay a higher interest rate if you put down a smaller down payment.
Higher closing costs: Closing costs are based on the size of your mortgage. So the smaller your down payment is, the higher your closing costs will be. However, you may be able to get around this if you live in a state where it's typical for the seller to pay the closing costs.
Private mortgage insurance (PMI): Private mortgage insurance (PMI) is a type of mortgage insurance designed for borrowers who make a down payment lower than 20%. It protects your lender in case you end up defaulting on your loan.
PMI can cost as much as 1% of your total mortgage payment and you'll pay it on a monthly basis. So for a $150,000 mortgage, you'll end up paying $150 per month.
However, this may not be that bad, especially if you have a less expensive mortgage. And once you reach 20% equity in your home, you can cancel your PMI and get rid of these extra payments.
How do you buy a house with no money out of pocket?
Fortunately, there are a number of lending programs that will let you buy a house and don't require a down payment. Here are five lenders that will help you buy a home with little to no down payment.
97% LTV mortgages
97% LTV mortgages is a loan program that is offered to first-time homebuyers by Fannie Mae. It requires a 3% down payment and private mortgage insurance.
Here are the guidelines for the program:
You'll need a credit score of at least 680
One of the borrowers must be a first-time homeowner
Manufactured housing isn't permitted
Gifts, grants, and other funds may be used toward the down payment
VA Loans
VA loans are a good option for military veterans. They offer 100% financing so you won't have to make a down payment. And VA loans don't require private mortgage insurance.
However, VA loans do charge a one-time funding fee, which is 2.15% of the total loan amount. This fee can be financed into the loan. Borrowers can apply for a certificate of eligibility on the Department of Veteran Affairs website.
Navy Federal Credit Union
Navy Federal Credit Union's loan program is similar to what the VA offers. It offers 100% financing with no down payment and no PMI. And Navy Federal's funding fee is only 1.75%.
Navy Federal offers a 30-year loan and a 30-year jumbo loan. 30-year loans have a loan limit of $424,100 while jumbo loans are available up to $1 million. However, you will have to be a Navy Federal member to qualify.
Federal Housing Administration (FHA)
The Federal Housing Administration was created in 1934 to reduce the requirements to qualify for a mortgage. This government-backed mortgage program has flexible requirements and is a good option for first-time homebuyers.
Here are the guidelines you'll need to meet to qualify for an FHA loan:
A credit score of 500 or higher is required
If your credit score is 500 or higher, a 10% down payment is required
If your credit score is 580 or higher, a 3.5% down payment is required
Sellers can pay up to 6% of the closing costs
PMI is required
High debt-to-income ratios are accepted
USDA Loans
If you're looking to move to a rural area, you might qualify for a USDA loan. The USDA Housing Program was designed to aid rural development and is aimed at low-income families. This loan program offers 100% financing with loan interest rates.
Here are the eligibility requirements you must meet to qualify for a USDA loan:
You must purchase a home within the USDA's boundaries: Although this loan targets rural area, some suburban areas may still qualify. You can look at this map on the U.S. Department of Agriculture's website to see if your location falls within the USDA's geographical boundaries.
Your household income can't exceed a certain threshold: This applies to everyone living in the household, even if they won't be listed on the mortgage. For instance, if you have a parent living with you who collects Social Security, this counts toward your household income. The maximum household income varies by state and county so you can find out if you qualify here.
Next Steps
The amount of money you choose to put toward a down payment is a personal choice. If you feel ready for homeownership but know that a 20% down payment isn't feasible for you, there are many options available to help you.
The best place to start is by looking at your monthly budget and seeing what you can realistically afford. Use a mortgage calculator to reverse engineer your goal and find your ideal home purchase.