CashUSA represents a network of lenders offering personal loans. The major differentiator with them is that they cater to individuals with bad credit, so if you need a loan but may not qualify with other websites, it's worth checking out CashUSA.com.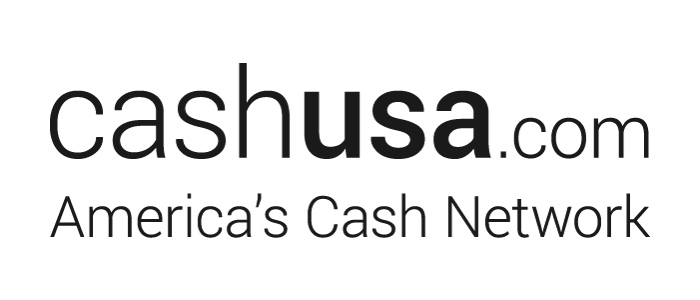 Each lender offers different rates and terms, so it's important to carefully review them if you receive a loan offer. You'll also notice different terms based on where you live since lending laws are different in each state.
The process is quick and easy. Keep reading to see if you qualify and what kind of loans you could potentially receive through CashUSA.com.
CashUSA Personal Loans
CashUSA.com offers personal loans up to $10,000. The minimum amount you can borrow is $500. The funds can be used for any number of purposes, including debt consolidation, vacations, or a home renovation project.
Since CashUSA.com uses a network of lenders, the APR can vary anywhere between 5.99% and 35.99%. Loan terms last between 90 days and 72 months, so there's quite a bit of flexibility in finding the monthly payment that works for you.
All of the loans through CashUSA are installment loans, so you get the peace of mind knowing that you have a set payoff date.
Plus, they accept borrowers of all types, with a particular specialization in bad credit personal loans. No matter your credit type, you have the chance of finding a lender who's willing to work with you.
Borrower Profile
So what are the exact qualifications for a loan through the CashUSA.com network? First and foremost, you have to be at least 18 years old, plus a U.S. citizen or permanent resident. Next, you'll need to have a checking account that's in your name so you can have the loan funds deposited.
What are the income requirements for CashUSA.com?
Your after-tax monthly earning should total at least $1,000 and it needs to be steady income. Finally, you need to supply CashUSA.com with three valid pieces of contact information:
Email address
Home phone number
Work phone number
If you meet these basic requirements, you could be eligible for a loan through the lender network and should consider filling out the online form.
Application Process
CashUSA.com's loan request process is quick, convenient, and most importantly, secure. It takes just a few minutes to fill out the online form and once approved, you could receive your funds in as little as a single business day.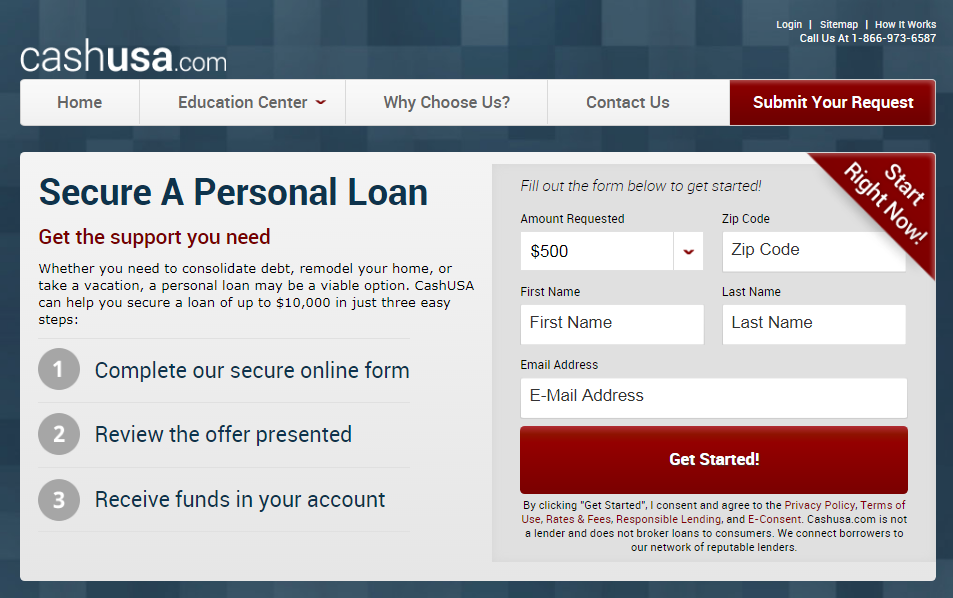 To expedite the loan request process, have your banking account information and other personal information on hand.
After you submit your information, CashUSA.com searches its lender network to find a loan connection for you. When that happens, you'll then be sent directly to the lender's website where you can view the details of your loan offer.
You can then review the loan terms, including your monthly payment amount, to see if they work for you. There's no obligation to accept the loan, so you can really think about whether or not it's in your best interest.
If it is, you can accept the offer online by signing an electronic loan agreement. It's then just a matter of time until you receive your loan funds directly into your bank account.
CashUSA.com's loan request process truly is quick and easy. If you know you want to submit a request for a personal loan online, start gathering some of that critical information like your bank account number and bank routing number, as well as your exact income numbers. This makes the process even faster so you can quickly get the funds you need.
Once You're Approved
Depending on the lender, you could get your money in one business day. You may need to provide some verification documents, like bank statements and pay stubs so they have an accurate picture of your income. Again, pulling all of this information early on can really make the funding process go more quickly.
So what happens after you receive your loan funds?
The answer is two things, really. First, you can start spending your money on your intended purpose as soon as the cash hits your bank account. Second, you'll start making monthly payments directly to your lender.
Repayment happens as automatic deductions from your bank account on the designated due date each month. It's important to make sure you have those funds in there every time so that you can avoid overdrafting and/or late fees.
Check with your chosen lender on their specific policies on handling late payments. If you know you won't have the cash available on your due date, call them as soon as possible so you can discuss your options. Make sure you review their late fees and any other lender fees before accepting a loan offer.
Special Features
When selecting a loan through the CashUSA network, you get to take advantage of a couple different special features. The first is rapid request processing, which allows your request to be reviewed almost instantaneously. This is much faster than when applying for a loan through a traditional bank.
You also get the promise of secure transactions, so you can rest assured that your personal information is safely guarded. CashUSA uses the most advanced encryption technology. They also perform daily tests to make sure all personal information is safe and secure.
CashUSA also prides itself on its easy auto-repay function. Yes, you need to make sure you have the funds in your account, but the feature does come with some major perks.
You don't have to worry about going to a physical storefront to make your payment each month. And you also don't have to worry about whether the payment will reach the lender in time or if there's any kind of fee for using a check or credit card.
All of these features make CashUSA a convenient and secure way to take out an online personal loan.
What to Know About CashUSA's Personal Loans
Before you get started, take a few moments to pause and assess your financial needs. That way, you can ensure you can make the best decision both in the short term and the long term.
Why do you need a personal loan?
People use a personal loan to borrow money for any range of reasons, from financial emergencies to home renovations. When you're thinking about your financial needs, you really need to take a look at the amount of interest you're going to pay as well as how the monthly payment will impact your budget.
Let's look at a personal loan for debt consolidation, for example. If you qualify for a personal loan that offers a much lower APR than your maxed out credit cards, you could save a lot of money over time.
But you also need to look at the length of repayment. If it's too short, you might feel cash-strapped each month by having high payment amounts. If it's too long, you still may wrack up a lot of interest on the principal balance.
What's the solution?
When you get a loan offer from a lender in CashUSA's partner network, do some comparisons to see if you'll save money in interest over the long term. Also, see how the monthly payment amount compares to your current minimum payments on your credit card. If the number is a lot higher, make sure you can afford the change.
Should you borrow money for non-emergencies?
A lot of lenders, including CashUSA, offer extremely flexible options for the use of your personal loans. But that doesn't mean it's always a great idea to take them up on the offer.
Take, for example, someone who wants to use a personal loan for a house renovation. Depending on the specific situation, this may or may not be a good idea. Will the upgrades add value to your home equity? That might make it a good idea to go through with the plan, especially if you plan on selling soon.
But if you're just doing the upgrade for purely cosmetic reasons, particularly at a high interest rate on the loan, it may be worth saving up the cash instead of borrowing it.
After all, a high monthly bill for several years may get tiresome regardless of how good your kitchen looks. Are the quartz countertops really worth it? Be honest with yourself so you're not regretting your decision further down the line.